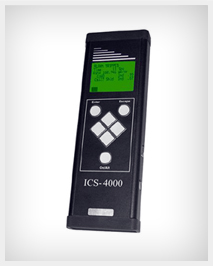 ICS-4000 Radionuclide Identifier
The ICS-4000 Radionuclide Identifier is a hand held gamma-ray spectrometer that combines a multichannel analyzer with a high resolution Cadmium Telluride (CdTe) detector.
The ICS-4000 is programmed to automatically analyze gamma ray spectra and report detected radionuclides and dose rates.
Users can select from preprogrammed isotope libraries or can define custom libraries from a list of over 160 radionuclides.






ICS-4000 Features:
Dual Analysis Capability
The ICS-4000 is both a radionuclide identifier and a MicroR and Survey Meter.
An auto-ranging, alarming dose rate meter provides audible and visual indicators.
The dose rate units and alarm levels are user settable.
An alarm log records the time and radiation level each time an alarm is encountered.
Multiple Modes of Operation - Two modes of operation are provided: Normal and Advanced.
In "Normal" mode a single keystroke begins analysis. "Advanced" Mode provides an expanded feature set.
Spectra can be observed in either mode.
All critical setup functions are password protected.
The user interface is intuitive and easy to learn.
A help key opens a window that describes the function of all controls.
Lightweight, Easy to Use -
The ICS-4000 has a LCD with a backlight that is easy to read in dark or brightly lighted areas.
The device keypad uses large tactile keys that can be operated even with heavy gloves.
The ICS-4000 is provided with transparent waterproof decontamination bags for easy maintenance.
Rugged and Reliable
The ICS-4000 is housed in a durable aluminum case that stands up to rigorous field use.
The device operates across the temperature range of -10C - 50C.
The ICS-4000 can run from a rechargeable battery that provides 24 hours of continual use or can be equipped with a battery pack that utilizes AA commercial off the shelf batteries.
Easy Access to Data Files - Onboard flash memory provides non-volatile storage of 300+ of spectra. Stored data files report the measurement conditions, identified isotopes, dose rate and integration time. Data files can be uploaded to a PC automatically using the ICS Explorer file management software.
Multiple Accessories Included - The ICS-4000 comes standard with a hard carrying case, RS-232 cable, battery charger, Users Manual and ICS-Explorer software. Also standard are a three year limited warranty and free software upgrades for the life of the instrument. Optional accessories include a spare battery, AA battery module, AC power module, soft carrying case and remote operation software.
ICS-4000 Radionuclide Identifier
Radionuclide ID
Energy range 10 keV ~ 2 MeV Channels/data acquisition 4000 max 2000 effective channels Gain 1 keV per channel Linearity +/- 1% Maximum counts per channel 4 x 109 Identification range 50uSv/H to 1 R/H Resolution 8 keV (1.2%) at 662 keV Calibration +/- 0.5% via standard check source, 5-10 uCi 137Cs recommended Master library 166 Radionuclides Sublibraries Norm, Medical, Indust, SNM Custom sublibraries up to 40 isotopes user settable
Physical

Detector 10x10x1 CdTe
Weight 1.75 lb.
Dimensions 10" x 3.4" x 1.2"
Case Aluminum
Keyboard Ambidextrous with large tactile buttons
Operating temperature 32-122 F; 0-50 C
Power 7.4V rechargeable Li with built-in charger
AA battery module and/or AC adapter available
Battery capacity 3.6 amp hours
Life approx. 24 hours
Battery charge time approx. 5 hours

Rate Meter

Effective dose rate* 5uSv/h to 1 R/h
Accuracy* +/- 10% per ANSI 323A-1997
Sensitivity
0 100% 0.0
10.0 100% 0.0
30.0 98.9% -1.1%
60.0 94.5% -5.5%
90.0 77.3% -22.7%
Detector efficiency, 2 pi geometry (CPM scale) approximately
241Am.....900 cps/mR/h
137Cs.....90 cps/mR/h
60Co.....25 cps/mR/h
Energy Response Energy dependent
Rate Meter Alarm User settable
Search Mode Display
uSv/H
mR/H
R/H
mSv/H
Sv/H
CPM
CPS